The Love Experts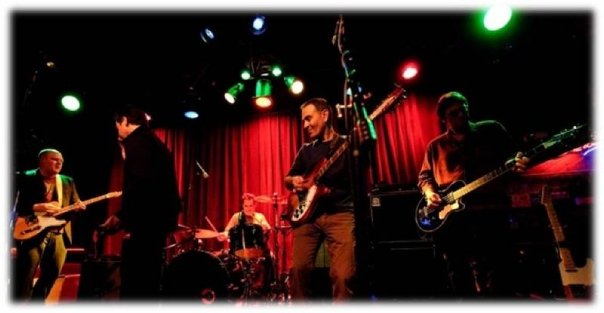 contact: Chris Grabau
links: myspace | facebook
When Dominic Finocchio (guitar), Dave Collett (guitar), Steve Scariano (bass), and Bob Trammel play the songs of Steve Carosello, they create the music of The Love Experts. As befits a lifetime of musical passions, Carosello's writing encompasses an encyclopedic variety of styles and genres, reflecting such influences as Buddy Holly, Bob Dylan, John Cale, Bryan Ferry, Tim Finn, and Thin White Rope. The remaining Love Experts likewise bring a wide array of experiences to these songs, providing assertive yet sensitive counterpoint to their unflinching rock band sound.
Carosello's distinctive tenor leads the way through the intricate musical arrangements, portraying a wide range of emotions and moods. Powerful, pitch-perfect, and unexpectedly tender, his voice evokes those of other great singers who have specialized in emotional portrayal, such as Roy Orbison and Love's Arthur Lee.
The Love Experts' sound reflects a rare lack of indebtedness to blues and R & B. Although there are no keyboards in the actual band, all the music begins on Carosello's piano. His classical training — particularly his study of Bartok, Smetana, Stravinsky, and other composers whose themes originated in the folk musics of their various countries of origin — informs his songwriting. Exploring these roots lends a haunting melodic element to the five-piece guitar-band template.
Named after a centrally located shopping area in Wellington, New Zealand, Cuba Street comprises six songs that reflect the variety and versatility of the Love Experts' vast catalog. These are songs you've loved your whole life. Hear them now… for the first time.