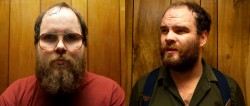 Undertow is proud to announce the addition of   Philadelphia, Pennsylvania's Pattern Is Movement to our management roster.
Originally a five-piece, Pattern Is Movement has transitioned (from five-to-four-to-three) to the dynamic duo of Andrew Thiboldeaux and Chris Ward.  In 2008 they released the album everyone had been waiting for, All Together.  Thiboldeaux's rhodes and falsetto vocals paired with Ward's intricate drumming creates a more explosive and infectious sound than ever.  The band is currently playing some US shows and gearing up for a European tour.  We are very excited to welcome Pattern Is Movement to the Undertow family!
Contact Christine Sanley for more info.