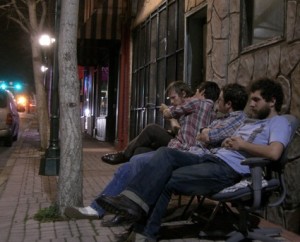 Christine is a recent graduate of Saint Louis University. She was Music Director of the university radio station and booking manager for The Billiken Club on SLU's campus. Christine moved on to NYC where she works as a college radio promoter with Pirate! Promotions and will also be working closely with us on various projects including bringing new artists to the Undertow roster.
The first band coming on board under Christine's care is Theodore, a four piece band from Saint Louis, Missouri. The band formed in August of 2006 and in that short time have self-released two albums, "Songs for the Weary" and most recently "Defeated, TN" – a song cycle based upon a small packet of letters the band found in an abandoned house in Tennessee. Always liking to stay busy, they are currently in the process of recording a split 7″ with Bad Folk as well as a new full length to be released next year.
We are excited to have Christine and Theodore join our family.