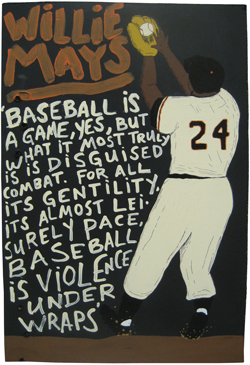 Musician and painter, Will Johnson, to Showcase original baseball folk art paintings.
Get an insight into baseball's unsung heroes with "Disguised Combat, Long Haul, No Steroids: Ed. I" painting exhibition to open at The Record Ranch Gallery inside Cactus Music, 2110 Portsmouth, on April 18th. All works were created in-between Will's busy touring and recording schedule with his bands Centro-Matic and South San Gabriel.
"We at Cactus have long been fans of Will's recorded work and it is very exciting to host an exhibit of Will's paintings as our first musician-as-artist show." says Quinn Bishop, managing partner of Cactus Music and The Record Ranch Gallery. "At the record store, we routinely champion the lesser known people that have made tremendous contributions to music. This philosophy applies so well to America's favorite pastime as seen in Will's show. We are pleased to include this opening as part of our Record Store Day schedule of events."
The exhibition of paintings features Negro League giants Satchel Paige and Cool Papa Bell, Alta Weiss who was the first female professional player, innovative managers Branch Rickey and John McGraw, house-hold names such as Hank Aaron Willie Mays, Roberto Clemente and Jackie Robinson plus other figures who made remarkable contributions to their sport and have unique stories. These works have not been exhibited prior to this show.
"I keep the medium simple: just acrylic paint on old floor scraps, MDF board, glass or whatever might be hanging around my house or storage room. I'm not trained at this, and I wouldn't call these pieces high art necessarily, but I at least try to celebrate the importance and uniqueness of these pioneers, unsung heroes and American curiosities. I try to focus on the transmission of history through simple tribute. It's a way of paying respect, a way getting to know the game I love even better." – Will Johnson.
A reception with the musician and painter, which is open to the public, will be held from 7 – 10 p.m. on Saturday, April 18th. The evening also will include a special live musical performance by Will Johnson who will be previewing compositions from his upcoming album. The reception will close Cactus Music's Record Store Day festivities. Refreshments will be provided by The St. Arnold Brewing Company.
The exhibition is free and runs through May, 2009.
About Will Johnson (in his own words)
My name is Will. I drive a small pickup, am not presently on any medication, write songs, and play in two bands with some friends that I love a lot. I've worked jobs on a farm, in maintenance and janitorial work, in comic book distribution, in a record store, in restaurants, teaching, delivering cars, transporting equipment, renting out tuxedos, making sandwiches, and cleaning up radioactive and mercury-contaminated waste. I love baseball. I have always loved baseball.
About Cactus Music and The Record Ranch Gallery
Cactus Music, the Bayou City's premier music store, re-opened in a new storefront in November 2007 to the delight of Houston's music fans. The new 5,800 square foot location at 2110 Portsmouth and S. Shepherd continues a 30-year history of offering an extensive selection of recorded music, hard-to-find DVDs and music-related gifts and products. Cactus Music also showcases local, regional and national talent on its stage with weekly in-store performances. "These events provide a special opportunity to experience an intimate musical performance, and meet-and-greet with the artists," says Quinn Bishop, managing partner. Located inside the new Cactus Music is The Record Ranch, an 1,800 square-foot store and art gallery offering a unique shopping experience for vinyl customers. In addition to thousands of new and used records, The Record Ranch Gallery presents exhibits featuring music-related artwork. "We have dedicated this space for artists to exhibit their music-related work and believe it also enhances the experience for our customers," says Bishop. Cactus Music is open 10 a.m. to 9 p.m., Monday through Saturday, and Noon to 7 p.m. on Sunday. For more information, call 713.526.9272